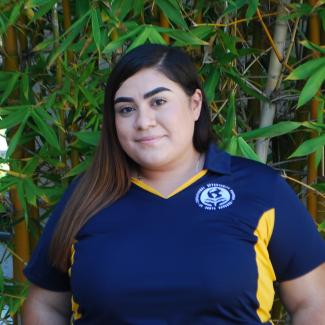 Resident Hall Peer Mentor
She/Her
Major(s) and minor(s):
Sociology & Double Minors in Spanish & Applied Psychology
What has your experience as a 1st generation or low income student been like?
As a first generation student there have been many times where I doubted myself and questioned my place in this institution. I was hit with culture shock as I grew up in a community of POC. But through this I was able to find a community with folks who had the same lived experiences as me by leaning on spaces like EOP or El Centro. Thus making my journey as a first generation student one that has been filled with growth and acceptance
What has your experience at UCSB been like?
My experience at UCSB has been filled with self growth. With the different obstacles that I have met it allowed me to grow into the person Iam today and I wouldn't change one bit. Because of UCSB I have also met some of the most amazing and supportive individuals that have helped me one way or another.
Top tips for students:
1.Don't be afraid to ask for help. There are many resources & folks out there that are happy to help you out and guide you.
2.Find your community. I know it's hard to put yourself out there. There are many organizations out there that will give you the community and comfort you need. For example, two orgs that I hold dear to my heart for helping me grow as much as I have are MUJER and Sigma Lambda Gamma National Sorority.
3.Don't forget that you earned your spot here and you belong. I know times might get tough but you belong here and don't let anyone make you believe otherwise.