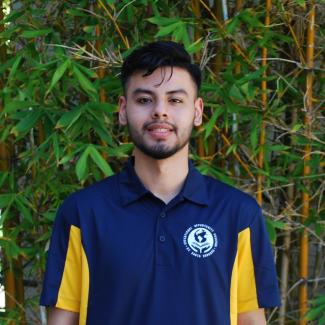 CLCRC / El Centro Peer Mentor
He/Him
Major(s) and minor(s):
Psychology and Brain Sciences with a double minor in Applied Psychology and Spanish
What has your experience as a 1st generation or low income student been like?
As a first generation and income-eligible student, my experience in college has consisted of many bumpy roads. This was mainly because I was the first in my family to go to college. Fortunately, I was able to surround myself with great mentors and peers that helped me along the way.
What has your experience at UCSB been like?
My initial experience at UCSB was stressful because it was my first time being far away from home. However, ever since I have been able to adjust, it's been enjoyable. As a result, I've gotten better at achieving a balanced lifestyle.
Top tips for students:
I suggest having a calendar/agenda in which all your academic and non-academic events are listed. This helps better organize and strategize your goals. Moreover, I suggest reaching out to professors or attending their office hours early on whenever you have questions or concerns. This helps reduce confusion. Finally, familiarize yourself with our library. The library has many great and free resources that are beneficial for school.