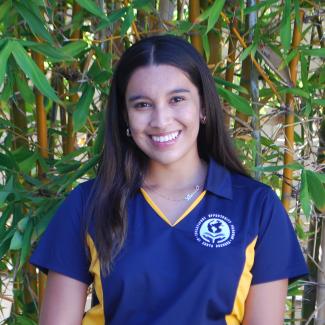 Resident Hall Peer Mentor
She/Her
Major(s) and minor(s):
Major: Biological Science Minor: Feminist Studies

What has your experience as a 1st generation or low income student been like?
My experience has been filled with great mentors and people that want to see me
succeed. Especially at UCSB, the professors, staff, and students have all been
extremely supportive throughout my time as an undergrad.

What has your experience at UCSB been like?
My experience at UCSB has exceeded my expectations. I love UCSB because not only
is it next to the ocean, but because we get a top education and get to meet so many
caring, happy people. We are one of the happiest universities in the US!

Top tips for students:
Get out of your comfort zone! Not only will you find your life long friends this way, but
you might find an unexpected talent or passion. College is obviously a time to get an
education, but it is also a time to find yourself!